NEW REPRO RADIO
1966 Chevelle AM/FM/Stereo Radio
*Small size, BIG features, Rare option!
*Fits your dash without any modifications.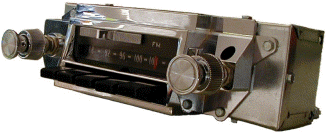 1966 Chevelle
Click for larger Image
*Quality Chrome plated faceplate and knobs exactly match original radio!
*AM/FM "Roll-over" dial scale looks and works like original!
*AM or FM band selected with slide-bar like original!
*4 X 45 watts RMS output allows up to 180 watts of audio power!
*Analog controls look and feel like the original radio!
*10 presets (5 AM, 5 FM)
*All controls easily accessible. Volume, bass, treble, balance, fader and tuning from original looking controls!
*MP3, IPOD, CD or XM (satellite) inputs included!
*7/16" shafts for mounting exactly match original radio!
*LED dial lights will never need replacing!

*Digitally tuned AM/FM/Stereo front end provides stable, high quality reception!
*All installation hardware and instructions included
*Memory retention for pushbuttons and user settings more than 40 years
1966 Chevelle AM/FM/Stereo
$625.00 USD Shipping Included in Canada & US
Due to the volitility in US/Canada exchange rates we have been forced
to list our reproductions in $ USD..w/ Apologies See Explanatory Note
Larry Wood
We will notify you of additional sales tax if applicable