NEW REPRO RADIO
1947-53 Chevy Truck AM/FM/Stereo Radio
*Small size, BIG features!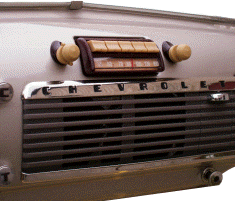 *Looks original but offers today's technology
*3¼" case depth allows room for electric wipers, air conditioning.
*Fits your dash without any modifications
*4 × 45 watts RMS
output allows up to 4
speakers and 180 watts of
audio power. Click to view larger images
*AM dial scale in foreground looks original
– FM dial scale discreetly in background.
*Analog controls


just like the
original radio
*All controls easily accessible from original-looking controls Volume, bass, treble, balance, fader and tuning
*CD or XM (satellite) Click to view larger images
inputs included
*LED dial lights will
never need replacing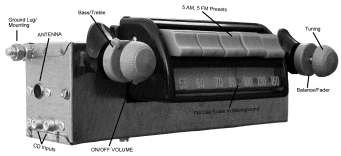 1947-53 Chevy Truck AM/FM/Stereo Radio
$580.00 USD* Shipping Included in Canada & US
Due to the volitility in US/Canada exchange rates we have been forced
to list our reproductions in $ USD..w/ Apologies See Explanatory Note
Larry Wood
We will notify you of** additional sales tax if applicable
Speaker Kits and Kick Panels can be purchased for this model