All our internal modifications to OEM Radios are approved by the Insurance Coprporation of British Columbia for use collector plated vehicles.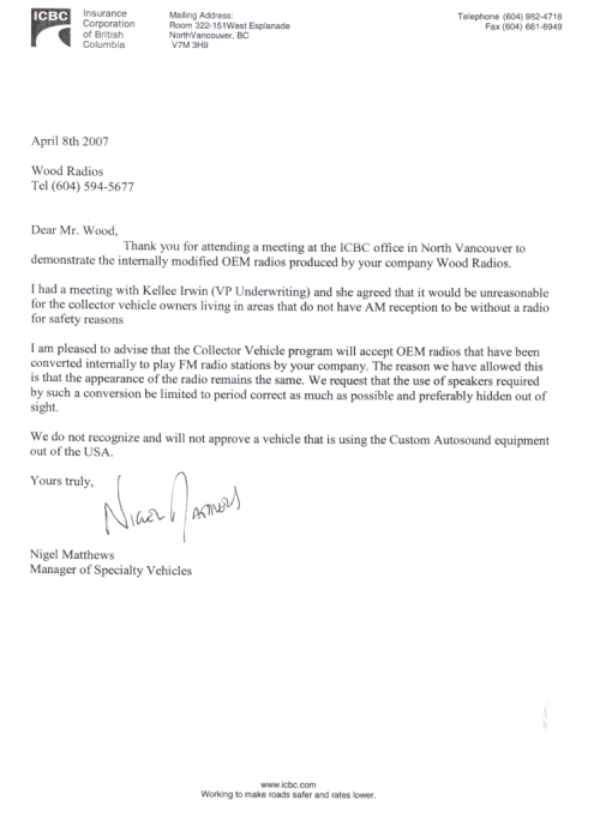 AirCare/I.C.B.C. Update
Collector Car Club Council
A regular meeting of the Collector Car Club Council was held April 24, 2007. Present were: Peter Hill, PVTT(AirCare) – Chair, Martin Lay, PVTT, Dave Gourley, PVTT, Ed Theobald, ETC(AirCare), Rob Robinson, ETC, Nigel Matthews, I.C.B.C., Fred Bennett O.E.C.C./CCCCC, John Carlson, NAAACCC, Jim McDonald, Vintage Car Club, Harold Wellenbrink, S.V.A.B.C.
AirCare issues
1. AirCare III Program.
· On-Board Diagnostic (OBD) testing implemented for 1998 and newer vehicles.
Vehicles 7 years old and newer exempted from testing. Test numbers drastically reduced
2. Since 2002 Collector status vehicles were only required to pass the "static" (no dynamometer) AirCare Testing. The full test could be taken if wished. During the last quarter of 2006, 169 1975 and newer vehicles applied for Collector status. Of these only 2 requested the idle (static) only test. The remaining 167 received the full test. Based on these findings a change in policy has been made. 1975 and newer vehicles, applying for collector status will receive a one time full dynamometer (A.S.M.) test. 1974 and older vehicles may continue to receive the "idle only" test. On application for Collector status to I.C.B.C. the applicant will receive a letter stating the vehicle qualifies for the "appropriate" test.
Item of interest: for the year 2006 cars of the following year were tested
1980 year vehicles – 3267
1970 year vehicles – 634
1960 year vehicles – 106
1959 year vehicles – 69
1924 year vehicles – 3
1923 year vehicles – 4
3. The future of AirCare
The current AirCare contract ends effective December 31, 2011
The Province will conduct a review of AirCare in 2009 – 2010. This will determine the need for a future program and, if so, what form.
The AirCare Administrative offices and laboratory facilities will move from the Wayburne location to the Caribou Industrial Park this summer.
I.C.B.C. Issues
1. It was confirmed that period correct, cosmetically unaltered a.m. radios, modified to receive f.m. broadcast are now acceptable for Collector status. The radio must appear to be original. One firm able to carry out this type of modification is:
Wood Radios
Vintage Radio Repair and Restorations
604 462 1217
2. Composite versus metal vehicle bodies. This issue remains unresolved.
3. I.C.B.C. definition of period accessories. The accessory must have been available at the time the vehicle was sold as new.
4. Concerns regarding the importation of right-hand drive vehicles (15 year criteria). I.C.B.C. has safety concerns regarding the importation of, primarily, Japanese right-hand drive vehicles under the 15 year rule. Nigel Matthews advised that Transport Canada is re-thinking the 15 year importation policy.
5. Archived vehicle registration numbers. I.C.B.C. deletes inactive registration numbers from their system. Eventually these deleted numbers are re-issued to other vehicles. This results in some older or vintage vehicles receiving new registration numbers when the owners wish to license their previously registered vehicles.
Future of the Collector Car Club Council
When initially formed the Collector Car Club Council consisted of representatives from AirCare, three car club representatives and was chaired by a member from AirCare. Later the Council was joined by a representative from I.C.B.C., currently Nigel Matthews.
Due to the changing focus of car hobbyist concerns from AirCare to those related to licensing and insurance, a review of the Council structure was agreed upon. Nigel Matthews offered to facilitate future meetings of the Collector Car Club Council at I.C.B.C. and would invite AirCare Representation when an AirCare concern was raised by the hobby. Club representatives will be: John Carlson, NAAACCC, Jim McDonald, Vintage Car Club, Fred Bennett, OECC/CCCCC, Harold Wellenbrink, S.V.A.B.C.
All major related concerns are to be referred to the Council.
Collector/Vintage car concerns or need for information – Contact Fred Bennett, 604 939 1773.